While I think that most of the more recent examples of 3D animated movies show some lack of inspiration I start to believe that Pixar could be the company that will save 3D animation from the fate its 2D counterpart had to bear…
Buy Big and Large at Buy n Large
Buy n Large is a rather interesting example of a big company selling great and cool product to its customers. Their website is nicely done and modern. The only drawback? Well, this company doesn't exist. Or better: doesn't exist yet.
The website of this future company is completely faked, created by the genius minds from Pixar for a viral marketing campaign and as my blog post shows, it is successful in its goal (*lol*, where is my money…!!)
Imagination vs. Safe Game
Besides the fun this fake website shows something very important. While most studios and production companies play the safe game, Pixar is the only one really trying to create something new and compelling, without thinking about pissing its parent off. The idea of a movie about a robot is not entirely new, even in 3D animation (Robots, anyone?), but the promise surrounding a little robot is simply stunning: in the distant future, humanity leaves the planet buried under the garbage of uncontrolled consume and settles in space. Since the humans want to return one day, they build a fleet of the so called Wall-E's (Waste Allocation Load Lifter Earth-Class) to clean up the mess. Time goes by and after 700 years, in which humanity became even more gluttonous, only one unit remains, desperately trying to do what it was built for (a longer synopsis can be found here).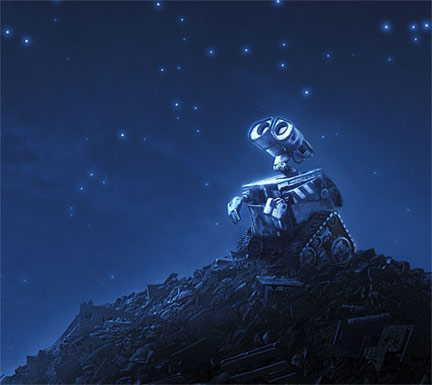 The promise alone could fill two movies, and it is by far one of the darkest ones in Pixar's young history of movies. But this premise clearly shows that Pixar seems to be the only production company at the moment with the guts to try something really new. Looking at the other studios can make you really…desperate. Either everyone settles with the standard formula of talking animals in silly stories (Over the Hedge, Madagascar, Chicken Little), or they don't take the premise of their movies to their full potential (Robots). They don't even try to create a promise as dark and edgy as this one.
The same Fate as 2D animation?
Because of these reasons I am currently deeply concerned that with all those talking animals and bad sequels we perhaps might see a future similar to the classical animation: the stories became weaker and sillier and soon no one watched it anymore (as with the recent Disney movies).
I sincerely hope that Pixar will be the one in 3D which Disney in 2D wasn't: a production studio that doesn't think of animation as something for kids only but simply a different method to tell great and emotional stories. Well, and by the list of recent movies I really loved (Incredibles, Ratatouille) and by the upcoming Wall-E, I am convinced for now that at least 3D animation in Hollywood has a chance of survival.