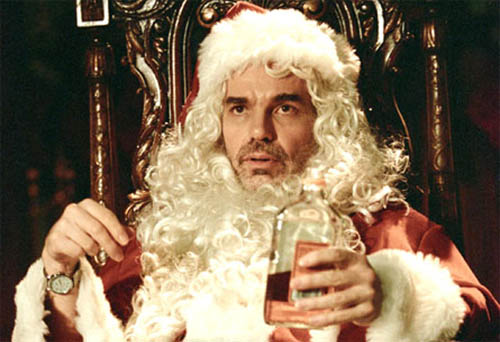 Before I start with anything else I have to tell you one thing:
I wish you a Merry Christmas!
Since we are all movie freaks of the best kind, we are supposed to watch at least one movie during the holidays with our families. It doesn't matter if it's a comedy or a drama. The most important part is that you are together with your family, having a good time and some fond memories for the future.
So, here are some christmas movies in no particular I recommend to watch and from which you are free to pick one:
Bad Santa

Seriously, sometimes all this sugar and candy-stuff makes you want to vomit. What's better than a black comedy that just puts Christmas back into its place? I saw this movie some years ago and I had great fun with it. Some moments were simply great.
Recommended to: anyone with cavities due to Christmas and a wish for a normal life
It's a wonderful life


OK, this one admittedly is the total opposite of BAD SANTA. But you must have a heart of stone if this one doesn't move you at the end. This movie is considered a classic and it is not without reason. Frank Capra managed to make it almost perfect, although it initially bombed at the Box Office. Strange, but true. Well, I consider Clarence still as one of the best and coolest angels of all time.
Recommended to: anyone who wants the perfect and dramatic feel-good Christmas Watch.
A Christmas Carol

I know, this one seems to be standard fare, too. But let's be honest: It is one of the best Christmas stories out there and any screenwriter would kill for it. On the other hand, there are so many versions out there that I become scared sometimes. Which version is the best? I would say the "original" of 1951. Black and White, no big effects. Classic.
Recommended to: anyone whose kids need a lesson of life.




Scrooged


When a Christmas Carol is the good-to-heart version, this one is the modern approach to it. And boy do I love it. From all movies inspired by Dickens' story this version by far is the most creative and funniest of them. The crazy ghosts visiting Bill Murray alone are worth it. An you might laugh, but I really like to monologue of Murray at the end of the movie. A little bit cheesy but it works for me.
Recommended to: anyone, who needs Dickens with a grain of humor and fun set in modern times.
Christmas Vacation


You can tell that a movie has become a classic when it is broadcast each year in primetime. At least in Germany it has become one. And Christmas Vacation really deserves it. Chevy Chase is at his best with this flick and the jokes are spot on. You can tell this one was made before comedy went South in Hollywood.
Recommend to: simply everyone. The perfect family movie. Especially after you witnessed this chaos in your own home.
Die Hard


This movie not only is one of the best movies of the Action Genre but also quite a formidable Christmas Movie, albeit the most unusual entry in this list. Yes, it sounds strange but there simply is no better way to destroy the Christmas Mood than Alan Rickman and Bruce Willis taking it out.
Recommended to: anyone who needs visual violence to survive Christmas or is in need of a change of pace. Or families whose teenage kids scream and shoot at the sight of A CHRISTMAS CAROL.
That's the list of movies I wholeheartedly recommend to watch (again).
Some might argue that many movies are pretty much standard fare but let's be honest: they are good. There are of course many other movies out there dealing with Christmas. GERMLINS comes to mind or some other cheesy we-love-us-and-everybody-else kind of movies. Well, out of all, those are favorites I would watch immediately.
How about you?
Merry Christmas!