Hollywood is, after all, a business. Producers invest money in hope they can make money. In a perfect world, they make more than they invest. So, I am quite sure they analyze each and every movie regarding future projects and their chances of success.
While I could do the same and simply copy and paste all grosses of 2008 in this blog, I take a more profound way:
In this post I analyze the most successful genres of 2008, based on the Top 100 of BoxOfficeMojo (as of January 12th) and the genre classifications used there.
To do this I implemented a three part statistical analysis. Firstly I take a look at the overall grosses of each genre to see how much money went to Hollywood. Secondly I average those grosses by the number of movies. Then I take a look at the cost-income ratio. Finally I add all those results together in one final chart.
So, enough of theory, let's start.
Total Genre Box Offices 2008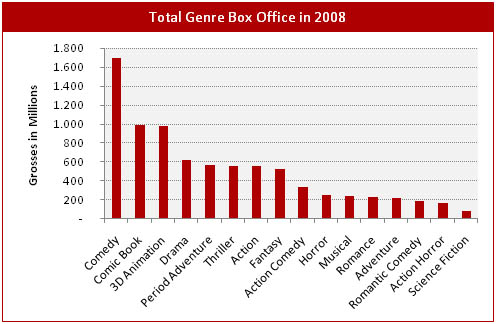 As you can see, it is no wonder we are plagued with bad comedies all time because in terms of total grosses, this genre tops the others with its amazing 1.7 billion Dollars easily.
The next two genres are the usual suspects: Comic Book and 3D Animation. Both earned almost the same amount of money. Comic Book reached $983 Million hence being only $6 Million higher than 3D Animation.
The next Genres can be described as the middle group, ranging from Drama ($614 Million) to Fantasy ($520 Million). Of course, INDIANA JONES was the biggest movie in the Genre of Period Adventures. Without it the genre would have reached $242 Million, and not $560 Million.
The last group of Genres starts with the Action Comedy, which garnered $328 Million. Interestingly GET SMART and not TROPIC THUNDER is the most successful contender in this genre
Perhaps some Horror fans scream in anguish, yet SAW V was the highest grossing Horror Movie, the Genre in total earned $247 Million, which results in a 10th place.
And as a total surprise (at least to me), the success of MAMMA MIA and HIGH SCHOOL MUSICAL 3 helped the Musical Genre to its pseudo-revival and an adequate 11th place.
The same goes for romance. Its overall success is the result of the massive success of TWILIGHT, which was the most difficult movie to add to a specific genre.
While for Adventure fans of all kinds 2008 was a good year, the pure Adventure Genre (not Period Adventure) garnered only 214 Million Dollar with JORUNEY TO THE CENTER OF THE EARTH ($101 Million) at its top.
Romantic Comedies and Action Horror (interesting genre) had no good year with three and two releases respectively hence only earning a rather small amount of money.
Science Fiction was the total looser in 2008. On the other hand, only one movie in the Top 100 can be truly added to this one, THE DAY THE EARTH STOOD STILL.
The information we gained here already is quite interesting, yet it sadly doesn't tell you everything because the total number of movies in each genre isn't accounted for. So, let us take another look at the grosses, this time averaged by the number of movies:
Average Genre Box Offices 2008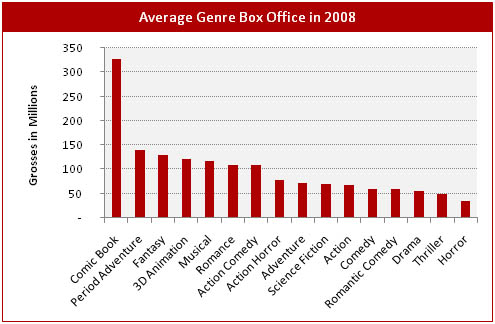 Although Comedies made the most money you can see that Comic Book Adaptions (thanks to DARK KNIGHT) made by far the highest average gross ($327 Million) while Comedies with its high numbers of movies only made $58 Million in average.
Period Adventure Genre has a high average gross but as we remember, INDIANA JONES is mostly the reason for this result. Again, without this movie, the genre only would have made an average of $80 Million.
Surprisingly, 3D Animation is not listed in the Top 3. If you love this genre and hate this result, send your thanks to CLONE WARS and SPACE CHIMPS.
Although Horror Movies are not the last movies in terms of total grosses they made in fact the lowest average amount of money (~$35 Million). Those numbers show that Horror Movies were a niche market in 2008.
As with the first chart, this one again has a problem: although it gives a very good statistical insight there is no indication of the true success of a genre. Take the Comic Book Movies. They made tons of money. But it would mean nothing if the production costs were high as the sky. Therefore, the next chart shows ratio of production budgets – without marketing costs – and grosses (200% = grosses double the amount of costs). From a producer point of view, this chart should be the most important one:
Genre Cost-Gross-Ratios in 2008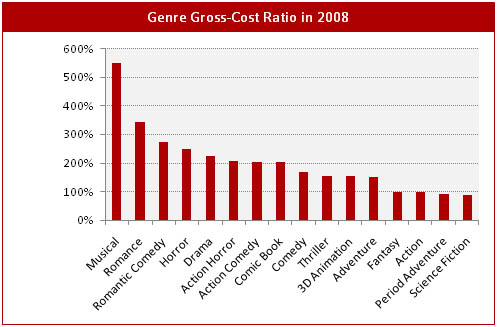 My first reaction to the results? I so hope nobody important in Hollywood reads this blog. Seriously, in terms of ratios nothing beats the Musical Genre. The two movies listed as Musicals made in average more than five times the money they cost.
Overall, the year 2008 was quite good for Hollywood since most genres (or better: their movies) made roundabout two times money they cost.
Comic Book Movies like DARK KNIGHT might be successful, but in 2008 they also were pricey.
The "ratio losers" of 2008 are the last four Genres in the chart. All of them made less money than they cost. Although Fantasy only looses by 1 percent, but it looses. Surprisingly, Period Adventure is one of the looser because of the disastrous performance of AUSTRIALIA.
Another surprise is again the Horror Genre: Although it is the smallest in terms of average grosses, the production costs were so low that even with the low grosses they made quite respectable ratios.
Now, while all three charts have valuable information they also create a new problem. Of course, all of them are valid and give a great statistical insight. So, in other words, regarding which statistical way you like more, you have three different genres to choose. And that is the exact problem.
So, to resolve this last problem I decided to aggregate all three results into one final chart by counting points from 16 to 1 for their respective positions in each chart (first place = 16 points, second place = 15 points and so on).  This way we can see which genre was the overall most successful in terms of total gross, average gross and gross-cost ratio.
And without further delay, I hereby present you the final rank of the most successful genres in 2008: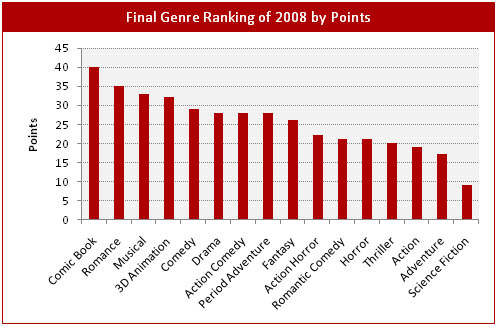 Did you spot any big surprises?
Trackbacks