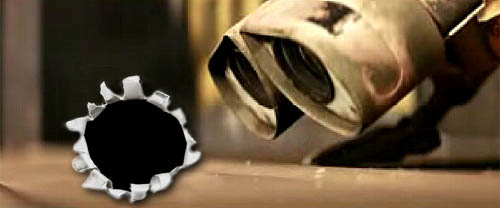 If you don't find an error in a movie you simply didn't watch it.
Over the years of movie going this is one of the things I concluded. In most cases there is always an error in a movie. And if you didn't spot anything you simply paid no attention to what's going on.
WALL E for me is such an example in both ways. For one, when I watched it the first time I simply didn't spot all the small and bigger errors in this wonderful tale. I simply loved every bit of it. Now that I finally had the time to watch it again on DVD I'm wondering if my brain was working at all during the first time.
So after the movie finished I started thinking. Are there any errors or plot holes? The result I came up with is the following list of ten "plot holes" and errors in WALL E…
What does Wall E do anyway?
"We clean up the mess, while you stay in space." OK. This is a nice idea. But: did you notice the tidbit of what will happen afterwards? Everything the little wasters do is to put waste from Place B to Place C. He/they relocate/allocate it (just as the naming suggests), built it up, but don't really clean up. Even the massive equipment you see at the beginning of the movie only stacks everything up. Was the plan from BnL to get rid of everything once they return? And if the answer would be yes how would they do it?

How many Starliners?


In a spot of BnL at the beginning of the movie you see the exodus of the humans. Yet, when you consider today's population of 6 billion people it would mean a lot of ships. Even when you think about a population of only 100 Million it would have been a massive undertaking.
Firepower?
When Eve shows up on earth, she also shows that she's quite capable of handling problems: she simply vaporizes them. But why? Considering the state of the earth and the fact that no alien life forms were shown, there should be absolutely no necessity to equip a probe with that massive firepower. Moreover, Eve is on the search for life, but shoots at anything that moves – which might be a hint to some life on earth.
Why only plants?
The last point directly leads to this one: why is she searching for plants alone? Isn't finding a living cockroach enough to proof that life is possible again? Admitted, cockroaches are quite sturdy creatures – especially the companion of Wall E.

Far, far away…


Why is the Axiom so far out in space? While they at least cleverly parked her in a nebula it doesn't explain why they went so far away from Earth.
Another point is remarkable, too: when they are able to build gigantic spaceships and place a sign on the moon, why didn't they simply build a home for humanity on the moon? Or Mars? When you are able to sustain a big population in a spaceship ("sailing" through the most hostile surrounding possible) you can do the same on the surface of almost any planet.

Where are the others?


So we see the Axiom flying in space. But why is the ship alone? The movie suggests that each ship went its way hence they deemed it unnecessary to flock them together like a herd. Which is stupid. You know, when something disastrous happens on one ship (which the designers thought of as possible as the pods later in the movie proof), the population would be able to evacuate to the other ships. But this way? Good luck!
Recycling?
Consider this as a satirical point in the plot since humanity didn't seem to learn anything. They consume, they are lazy – and they throw out the garbage in masses. The only problem: where does that material come from and why don't they recycle? It doesn't seem that we are on a spaceship with replicators which create materials from energy. So they must get their stuff from somewhere. But those massive amounts of garbage would need a massive fleet of smaller ships to refill all raw materials needed on the Axiom. And they would need a massive industrial complex to create parts and products out of them. Admittedly, we're in the future where almost anything seems possible. And they must have thought of something to sustain the population.

Eve = Wall E?


When we imagine that humanity did do in fact nothing since entering space (which is a big hint in the movie) it begs one question: why are Wall E and Eve so different? I don't mean the design aspects of both; those could have been intentional design decisions. It's more the technical aspect under the hood. For example, Eve doesn't seem to need an energy recharge despite the amounts of energy she must consume. Wall E on the other hand needs solar panels to refill his batteries on a daily basis.
Leaning in Space?
In the final third of the movie, the autopilot fights against the captain, causing the ship to lean. I believe that this factual error didn't escape the director. But he decided to stick with it for suspense reasons. Because normally it would have been impossible that the leaning of the ship would have caused anybody to fall over. You know, there is no gravity in space except on the ship itself. And that gravitation field normally always points upward – relative to the ship, not to the world or universe.

Plants. Since when?


OK, this one is by far the biggest plot hole in the script of WALL E. 700 years ago, humanity fled from Earth. When they did this, they expected to return some years later. Then they surprisingly found out that the planet is becoming inhabitable for a long time (as the CEO indicates). But for some reason they from the beginning have all probes, ships, scanners and protocols (and manuals) necessary to search for plants on Earth and finally return. Either they simply thought of almost everything possible that could happen or they were incredible lucky to just think of that possibility. Or it simply is a plot hole.
So, these are some of the plot holes, "plot holes" and errors in WALL E that I found or noticed.
What really amazes me is the overall amount of plot holes and errors because I thought of many of them while writing this post (and so started thinking about it).  And there are still many of them unburied (for example, why the autopilot lets them search for life on earth at all).
Does this list mean the movie as a whole is bad? Far from it! While this might true for other movies, this doesn't account for WALL E because the overall story and its main character are simply well done and executed.
In my eyes Pixar's WALL E is still one of the best animated movies out there. And those errors in a way even increase its charm because it makes this movie likable and lovable. Just like the little waste allocation unit with its big eyes.
Trackbacks