Well, after my last analysis of the gross revenues of 32 franchises and trilogies I wanted to write a completely different post again. But while I was redesigning my blog to be even more minimalistic my mind started to wander which finally resulted in this one nagging question: which franchise / trilogy made the most money with its (first) three movies?
Of course, I couldn't let this one be unanswered.
Slowly but surely I am getting old from writing this one sentence again and again, but…well, I am (again) surprised by the results. Just when I thought I'd be right this time, the results smashed my hopes again with a dose of reality.
While I believed that LORD OF THE RINGS might take the first place this time, it in reality "only" made it to a fourth place. SPIDERMAN is the ruler of them all, grossing almost 100 million Dollar more than any other film "trilogy":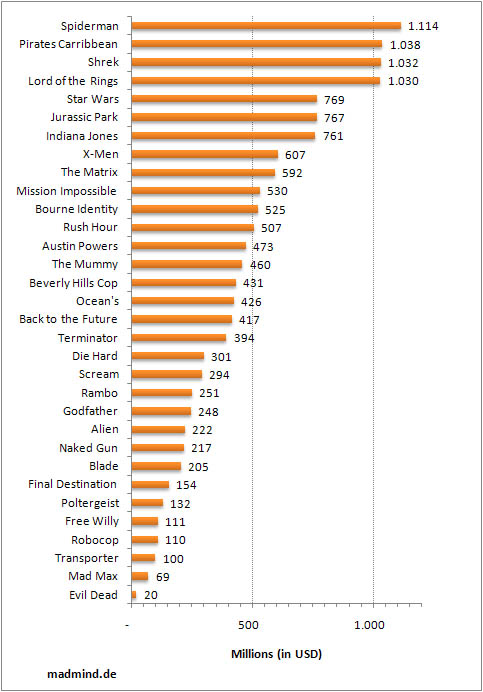 At least my guessing on the other two possibilities were somehow right because I wasn't surprised at all by the next two entries in the list: PIRATES and SHREK both managed to climb to the top three, divided by an almost non-existent margin of 6 million dollar. In a way we could say they all (including LORD OF THE RINGS) managed a good second place.
It's also interesting to notice that the next three movies after LotR not only earned significantly lower amounts of money (around -260 million dollar each) but share the almost exact gross revenue. These results create two "steps" of some sort in the upper ranking while the rest of the list drops in a more linear way from X-MEM to EVIL DEAD.
Speaking of the devil (lame pun intended) I find it kinda sweet to see this unbelievably small trilogy on this list. It shows that revenues are not necessarily the only thing to create some kind of fame in the movie world.
What do you think ?