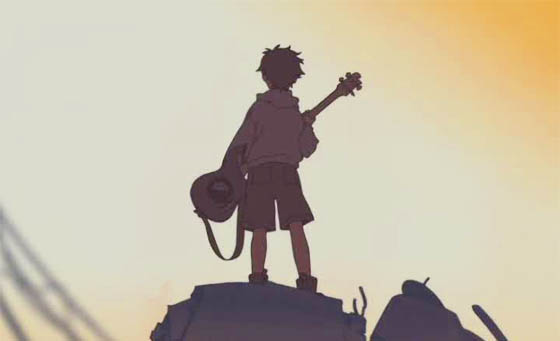 Wwell, I can count the occasions on one hand when I sit there, robbed of all my thoughts and words because of the awesomeness I just have witnessed. Thanks to Fooly Cooly, the counter went up by 1.
You know, until some years ago I loved anything spoofy from Hollywood. From Airplane to the shit of later Nielsen movies. It's no joke. In review I cannot believe it either. I really was that much addicted to this genre. Then I suddenly became more critical of this stuff. It was no slow progress. It was more like a click – and I totally forgot the reason for this sudden change (Yes, that's possible, I am the living proof).
And then the wow hit again! As oblivion began to be my everlasting friend, I got myself again into a frickin' ride full of coolness, style and fun called Fooly Cooly, which happens to be a six part animated series from Japan that was produced in the year 2000.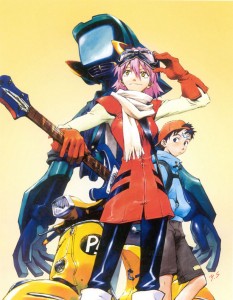 Story
Fooly Cooly (FLCL) basically is a science fiction comedy that starts with the main character Naota living a normal (i. e.boring) life in the boring city of Mabase. This boredom of live stops dramatically when the mysterious girl Haruhara slams into his world by running him over with her Vespa and – if that was not enough – giving him a nice slam on the forehead with her electronic guitar. Naota (12 years old but trying to act like an adult) is on the center of the following chaos and learns that Haruhara is an alien on the search for a powerful pirate king to gain his power. And Naota became the key for Haruhara and her fight. Or to be more precise his head, which transformed into a wormhole thanks to the Slam Of The GuitarTM.
Sounds crazy? Well, you have no idea, how crazy this whole six part series is, because basically I've written only the information of the first episode down and didn't even mention all the minor characters that bring this universe to life.
Animated Storytelling for the 21st Century
In a way it is amazing that I totally forgot about this series in my vault because to me this is the kind of storytelling I expect to see in our modern world of the 21st century. Where western animated series try to be blatant obvious with their bland and boring stories, FLCL goes beyond that. It presents a story that is basically one big metaphor for growing up, puberty and ones place in society. From the guitar wielding and swinging the bat to hints of sexual feelings there is not a single scene in FLCL that cannot be interpreted.
Even more, FLCL doesn't assume you and I are stupid as so many other comedies do. It assumes that you sit down, have fun but nevertheless watch and listen carefully about what is said and done. Almost any dialogue can hint to some important information and small acts of the character can reveal something about their respective lives. The first minutes of this series are a perfect example of this as we get some glimpses of the main character's lives, yet nothing is explained to us by boring voice-over narrations.
Of course, a well story presented badly would result in a catastrophe. Again, FLCL doesn't disappoint in this department either. In short, the animation is top notch, fluid and always amazing to look at. They had a budget to spend with both hands and they certainly did.
Even more, they used many occasions in the story to apply more experimental styles of animation. It is no exaggeration when I state that FLCL in the course of its 140 or so minutes changes its animation more drastically and more often than the whole Disney Corporation in the last two decades.
It's a shame for Disney and the other animation companies that they seemingly weren't and still aren't able to pull off something like that, as my rant from some time ago proves.
Soundtrack meets Animation
This "Disney-Dilemma" doesn't account for the animation and storytelling only, but even goes as far as the soundtrack.
While Disney in my opinion too long stuck with this we-sing-about-our-lives-nobody-cares-about style of music and soundtrack, FLCL does something what Disney should have done years ago: using the soundtrack to transport an old art form to the 21st century.
So, instead of using an orchestral soundtrack as many would have done, the producers went with the amazing rock sounds of the Japanese band "The Pillows" that perfectly fit to each and every scene. Perhaps someone at Disney and Co. will sometime have the guts to do something like that.
Conclusion
Well, what can I add to this review that sums everything up nicely?
Simply put, Fooly Cooly is the kind of short series I am starving for since the year 1999. Modern in storytelling and modern in its presentation, the Japanese have hit the mark and many years ago raised the bar so high that it's almost impossible to reach.
Any producer with this "oh look, we can draw funny and distorted faces in a meaningless plot"-type of animated series should watch this and learn from it. FLCL is the pure distillation of style, power, energy and storytelling.
Perhaps it shouldn't be broadcast anymore but put into the Museum of Modern Art. Seriously. It's that good to me.