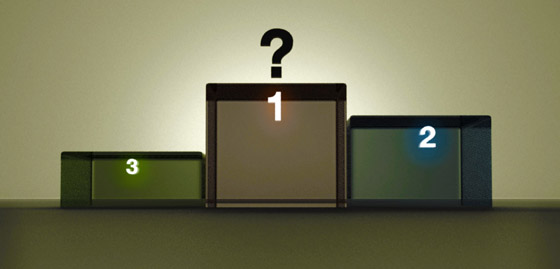 30. Madagascar 2: Escape 2 Africa

Movie Score:

45.5
I hated Madagascar. Period. With one exception: the penguins. The rest was the usual talking animals comedy fare I am so sick of. Therefore I cannot write much about the sequel because I've never seen it. Judging by the critics and IMDB this seems to be a mistake as many are of the opinion that Madagascar 2 is an improvement over the first entry in this small franchise. Frankly, I am stunned because how often does it happen that a sequel of an animated flick is better than the original? So, rank 30 seems to be justified.
29. Rambo: First Blood Part 2
Movie Score:

45.7
The almost bloodiest movie ever, if we think of the Hot Shots 2 parody. Compared to the original movie the body toll is of course infinitely higher with Sylvester Stallone killing almost anything in his sight that has two legs and smaller eyes than him. Didn't Stallone say at one time that the US could have won the Vietnam War if it only wanted to? If nothing else, this statement proves that Stallone really believed the script about a one man army he was acting from.
28. Beverly Hills Cop 2
Movie Score:

46.9
Hands down, Brigitte Nielson was cool as ice in this movie. I loved that, a cold-blooded woman that couldn't be irritated by Axel Foley aka. Eddie Murphy. BHC2 is a good mixture of fun, action and a shallow version of suspense which is just as suspensy enough to keep the story going on and staying somehow focused. Firing the incompetent Chief of Police at the end of the movie alone is so satisfying that I consider this rank for Eddie Murphy's flick spot on.
27. The Mummy Returns
Movie Score:

47.0
Mummy Returns is a great continuation of the first movie, while retaining its fun and action. One awesome scene is the moment when the creature…things in the jungle fight for the dynamite. Comedy gold. The only thing I hate to death is the son. Nobody, and I repeat, nobody can tell me that a cute little kid would have enough balls to anger a ugly, gory mummy in front of him when even adults run away screaming. Why couldn't they just let him piss his pants, that would have fit far better than this wisecracker-kind of agony?
26. National Treasure: Book of Secrets
Movie Score:

48.5
Since I didn't watch Book of Secrets, here are my two cents to the first movie: I love that one because of the epic fact that this time, everyone gets the treasure. Finally!!!! How many time did you wish from the bottom of your heart that everyone  should get what they search for (i.e. the Treasure)? Take the Mummy as an example where everything is buried under the sand. Thank god, they went the other, non-cliché ending for the original movie and I so love them for doing that.
25. Die Hard 2
Movie Score:

52.6
Okay, who does not love this franchise. I thought so. Everyone loves it – up to the second movie, which is right here on rank 25. Absolutely fitting result I must say. After so many years it just feels so refreshing to see a rather normal guy doing some awesome stuff we all dream about. No cool looking Wil Smith or Ahnold. Just a normal guy who happens to be a cop with a gun and a mind of his own. Up to this sequel it kinda felt right: skyscraper -> airport. but the third? New York? You gotta be kidding me.
24. Ice Age: The Meltdown

Movie Score:

54.1
All hail Scrat! The most awesomenest side character ever banned on celluloid or pirated on the net. Period. I love this guy and his eternal search for the nut. I don't give a crap about Diego, Manny or the third guy. The story in this movie is simply lousy and too cliché for my taste – with the exception of Scrat of course.. Nevertheless Ice Age 2 gained good reviews by the people and made some good amount of money, so it can be proud to be in the Top 30.
23. Rocky II

Movie Score:

56.4
Rocky II might very well be the unintended sequel that get's as close to the end of the first movie as possible. Heck, it even overlaps a little bit. Take that, silly amateurs, who skip many years with the intention to spice some things up. Nevertheless I am surprised to see Rocky II that high in the list. On totally unrelated matter: would you agree the poster on the left is a little bit too minimalistic? Especially with this weird little figure in the 'Y' which therefore attracts all attention? Well, it was 1979 so…
22. The Lost World: Jurassic Park
Movie Score:

56.6
Where King Kong failed, our beloved T-Rex did what I we all wished for: wracking havoc and showing humanity it should better get its ass together and use its brain. Although it would have been awesome if some beautiful woman would have rode on its back. Aside from the cool action sequence (which deserved its MTV award) Jurassic Park 2 was…forgettable. I especially hated Goldblum's character for its massive amount of stupidity, despite being someone that should use his brain from time to time.
21. Rush Hour 2
Movie Score:

57.9
It almost reached it, the pantheon of the Top 20. And to be frank, I would have smiled if Jackie Chan would have reached it. As written above, this guy is a fucking genius in terms of action. Other stars might be better fighters but he is the Charlie Chaplin of Marial Arts. The only real letdown of this movie is Chris Tucker. I kinda tolerated him in the original movie, but for some reason I kinda hated him in the sequel. The action speaks for itself so why adding a noisy brat besides the genius? Wait! This is a buddy cop movie. Forget what I wrote.