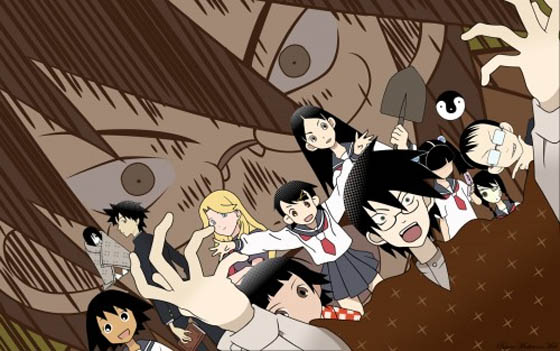 She snaps…she literally snaps…
Thank god for YouTube's recommendations because otherwise I probably wouldn't have found this extremely funny scene  from the anime Sayonara Zetsubou-Sensei (Farewell, Mr. Despair).
As the title suggests, the series is about a teacher who often is trying to kill himself (or on the verge of being absolutely in despair) and his group of eccentric female students.
She snaps…she literally snaps…
Now, if you wonder how eccentric they are: this scene shows you what happens when someone who is extremely fixated to do everything perfectly prepares to cut a cake when people start flooding in.
The solution of this problem is as simple as hilarious:
She snaps…she literally snaps…
The moment she snaps. Oh boy, the moment she snaps is so amazing. You even hear the string stretching and snapping. And her gasp in that particular moment…*lol*
Normally, I would hate this kind of exposition-for-the-stupid. This time, though, I suspect the producers knew all along that the scene would end up on YouTube. Hence they directed it that way that every piece of information necessary is there.
She snaps…she literally snaps…