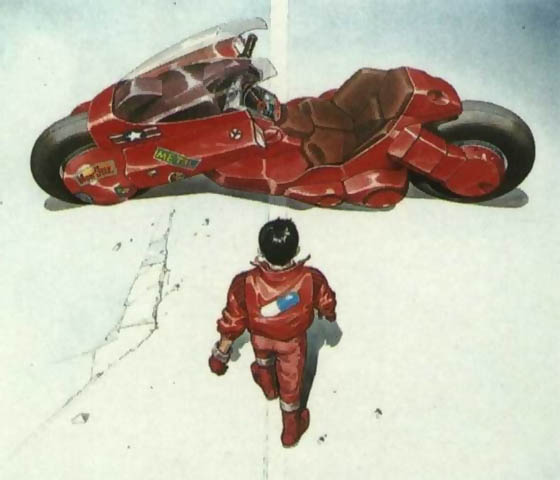 Akira is the anti-thesis to Disney in any way you can think of.
In other words: you can take almost anything except animation and the negative version is Akira. Where Disney is easy to understand, Akira is hard to understand. Where Disney is fluffy, Akira is hard as a brick. Where Disney animates people as if they are bad over-acting actors, Akira is about realistic animation. Where Disney is "for children", Akira is for adults etc etc pp ad nauseam, I think you get the picture.
I really can understand that Akira, at the time of its release in 1988, blew the mind of western audiences.
Basically this is also the reason you have to watch Akira, even if you don't like anime or animation. Even with all its flaws Akira is not called a landmark animation, even a classic, for no reason.
You have to be prepared, though, because Akira really wastes no time to get started. In some ten minutes or so we get introduced to so many plot elements that you get dizzy. Heck, even after a second watching I got confused and had problems understanding all that's going on.
Moreover, its story is so packed full of characters you get even more dizzy. It's not only that there enough main characters to fill a whole series (Kaneda, Testuo, Rai, Rei, the Colonel, the shriveling kids, the scientist and so on). No, there are enough to fill a whole stadium since there a tons of minor people in this flick which seem to play a bigger role in the two-thousand page manga but get only some seconds or minutes screentime in the movie. I almost started to play a drinking game.
Here's my initial rundown: the ex-army kind-of type leader of the Clowns, the strange religious cult leader, the shrimp of a politican (although he played a bigger role here) and the cute little Akira (who casually kills millions of people in some mere minutes – way to go brat!!). I am sure I forgot to mention some other guys here, so be free to add them in the comments.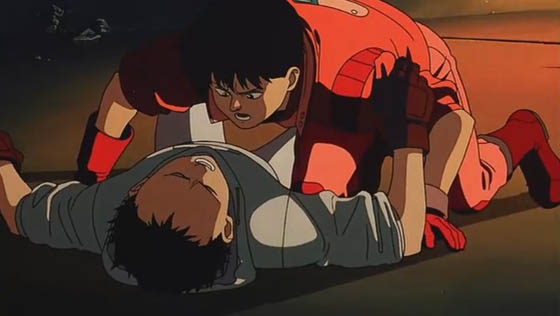 As the story moves on it at least gets a little bit more understandable but at the end the shriveling kids could have used some more time to spoiler us their plan. I have a feeling of what they did, but some confirmation would be so awesome you almost won't believe it.
Seriously! Where other movies and series go over-the-top, Akira doesn't even bother us with some more detailed explanations. Well, at least, it's enough information here to let the people get started with interpretations. And there still is the manga. But I am lazy after all…
On the other hand the overall atmosphere Akira builds up is fantastic and almost unmatched. Sure, we have Blade Runner and its companions but Akira doesn't go for melancholic or depressing but for eerie, massive, cold and technological. I think it's mostly the contrast at work here that makes the atmosphere so unnerving.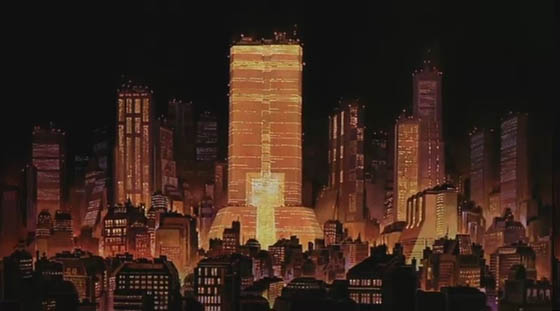 On the hand one we have a super-mega-city with buildings as massive as you can think them. On the other hand you have a sleazy and derelict feeling at every corner. It's as if the city is on the verge of falling apart and therefore a perfect metaphor for the society. I certainly wouldn't want to live there. I think I would hang myself after two months max. Or even earlier considering that Neo-Tokyo very often feels like a ghost town since there are no people around. Budget limitations certainly have their advantages.
But that doesn't mean they had no budget. It's quite the contrary because…holy shit the animation is fantastically, epically awesome, even decades later and even though you sometimes can see the limits of analogue recording. Akira even gets some bonus points from me for animating technical stuff like weapons, vehicles and so on without.any.hiccup.whatsoever. Not to Disney: watch it, learn from Akira and start the mea culpa route please.
Effects animation? On of the best I have ever seen. Explosions look beautiful as does smoke and even shards of glass! I get the feeling the animator of the glass shards must have committed suicide afterwards because he couldn't do anything else anymore. In one scene at the beginning you see literally thousands of them moving smoothly. It's short but utterly amazing. Again, at that time anyone else wouldn't have animated it and today anyone would use 3D but they wasted even one life to go full force with it.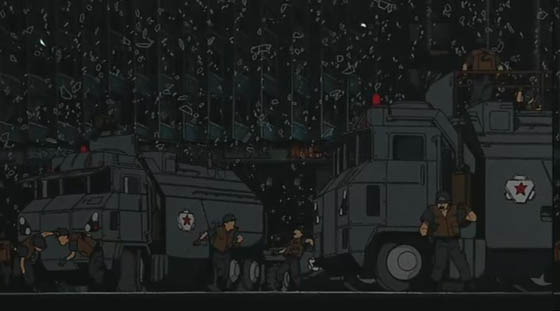 The same can be said about the background art which you simply can call Background.Art.Porn! Almost every single shot is wallpaper material and I think I could pause any second and ooze at the detail they went for. I even remember the moment when as a kid I reached for the VHS case to confirm I didn't watch a live-action movie. It is that amazingly detailed. This especially holds true for the city and its enormous buildings. Basically behind every single window you can see something. What do you think? How many people did they waste for that? It had to be hundreds.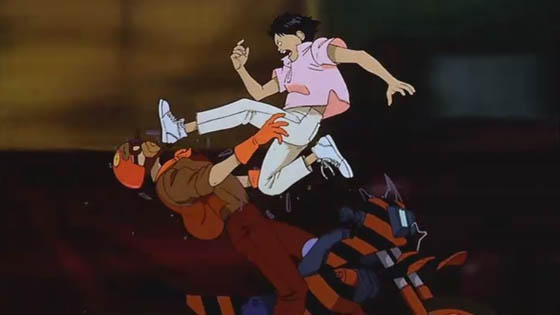 Fuck yeah, Kaneda being badass. By the way: the other guy was in fact driving his bike…
Akira has its flaws as I already stated. But seriously, if you are even slightly interested in animation go watch Akira now! If you are sick of the usual kiddy-shit you get served, go watch Akira now. If you want to start looking beyond Disney, Dreamworks and Pixar: Go. Watch. Akira. Now!
By the way I still stand by my word that the opening shot of Akira is still one of the best ever.
So, I think I have talked enough. Now it's your turn. Did you already watch Akira? Do you like or hate the movie? Let us know!