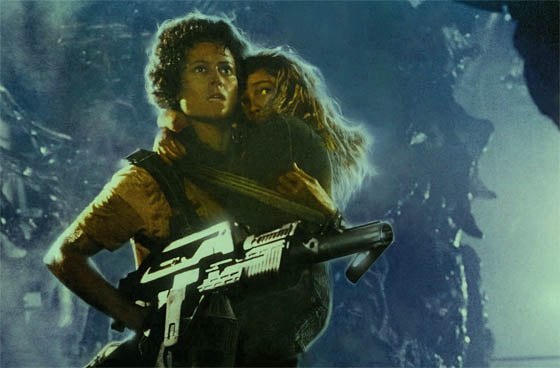 Let me get one thing straight from the beginning:
I love Aliens.
I think it is one of the best Sci-Fi Action movies ever made and one of the best movies of James Cameron before he started getting bad with scripts but even better with effects.
Aliens has great pacing, great suspense and hell a lot of great action. The sound effects for those awesome machine guns alone is fantastic. And on top it all Aliens is on par with Alien although they couldn't be more different in terms of their respective feeling.
The Director's Cut of Aliens is whole different story here.
Basically it sucks on a massive scale. It's not those added scenes that fill in some background information. No…it's only two damn scenes Cameron added that drag Aliens down to the suck level.
Only two scenes!!
And they completely ruin the movie because they completely remove the tension and suspense.
I am at best okay with most of the other additions. Take the scene where the settlers find the cave with the crashed alien ship. In the original it's missing hence we know nothing about the beginning. We just see the results. Some might say that this scene is great clearing up everything. Well, I never really cared about that. It doesn't matter. The only thing that counts is that they are screwed. Period. Another thing is the absence of Ripley. This movie is about her. It starts with her it, it ends with her and in between we never leave her. The settler scene for that alone is an epic waste of time.
Now on to those two damn scenes that truly ruin everything for me.
If you remember, after the first big action scene of Marines Vs. Aliens in which the marines get totally mopped, they head back to the main complex, think about their past errors and start barricading themselves as good as they can since they cannot get off the damn rock.
Well, in the Director's Cut they do one other thing: they place some automatic guns in the tunnels to fight off the Aliens. What happens of course is that those guns are not placed there for nothing. The creatures start to find their way to the complex and attack twice. Of course they get busted.
It's those scenes that totally destroy the tension of Aliens and as a result the movie as a whole.
You know I always knew those nasty things wouldn't wait very long to attack. Why should they wait? They won by a huge margin in the first round. The question for me was more "Where are they now?" It's the classic horror cliché: the best horror is the one you can't see because then it can be everywhere. The same is with the original cut of Aliens. What are they up to? Where are they? Did they trick them and their motion trackers? Those nasty little buggers could lurk behind every damn corner. The result is pure tension and suspense.
The machine gun scenes remove this very suspense because they show us our beloved acidic busters. We now know where they are, we can see them and we know they are still outside…Way to go man. That's suspension for the win!
Come on, James! What the heck were you thinking? Sigh.
As far as I'm concerned I'll gladly stick to my super mega DVD edition of Aliens which includes the original cut. Thanks to that I can let the suspense raise to the heavens each time I watch this fantastic movie.
What's your take on this? Am I too harsh or do you agree that those scenes are so wrong on so many levels?