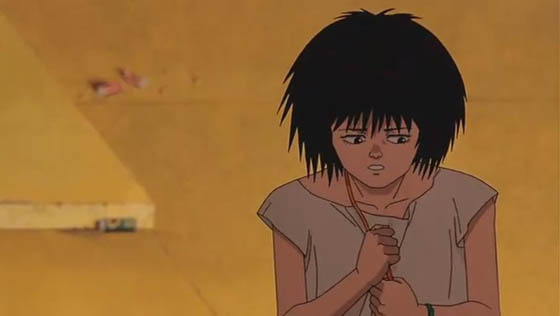 Gage recently added a comment to my review of Akira (the one anime that made anime famous as anime in the West) and this one made me think. He mainly writes about Kaori who is the girlfriend of Tetsuo i.e. the Guy Who Goes Horribly Nuts. Gage not only correctly points out that Kaori is only on screen in two scenes in Akira but also that in each segment Kaori is in a living hell and no one seems to care. I addressed his second point in a comment of mine in the original post, so I will use this space to address the first point: the role of Kaori in Akira since her two moments seem to be not that important at all.
Before I start please note that you need to have watched Akira at least once to understand what I'm writing about. If you didn't, you can gladly skip this blog post if you like.
Originally I planned to address all of Gage's points in a short comment and be done with it, yet I just couldn't wrap my mind around the whole matter. Why is Kaori in Akira? What's her purpose? What I certainly know is that her role in the manga is much more important than in the movie. I know this because I bought two volumes of the manga years ago in which she was part of the plot. Yet, in the movie?
Her role at first doesn't feel important at all in the animated version. I was constantly thinking and wondering why Kaori was in the movie. Certainly you could've reached the same plot points with a different character. The only thing I knew from the start was that another character was necessary so that Tetsuo has someone to interact with.
Yet the more I thought about it the more I got lost because I couldn't really find an answer. Well, until I started remembering one of the scenes in which Kaori was in. This was the moment when it made 'click' and for the first time ever I grasped the purpose of her character in Akira completely.
So, what am I talking about? To emphasize this point, let me start with some of the other girls that appear in the movie. There are two scenes in particular I want to talk about. The first scene takes place after Kaneda's gang is sent back to school and get a good beating from a teacher: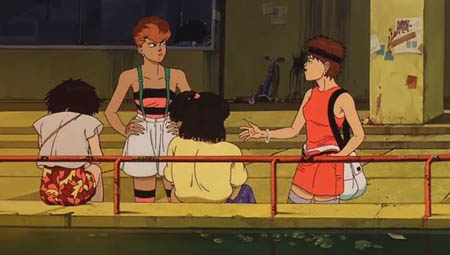 As you can see, the three gang's chicks on the right can be fully described as biker's girls. Colorful dresses, makeup and an almost slutty way of talking. If I'd be an asshole, I'd describe them as the pitch perfect bitches of the gang.
Then there's another scene which is even more important: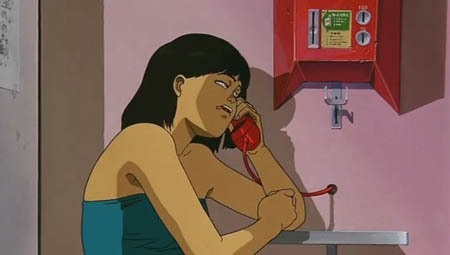 The appearance of the other girl on the telephone is not that outrageous but you can see that she has a good tan and wears tight clothes which reveal her figure in any way possible. Moreover she's some kind of gossip girl who seemingly talks all day on the phone. In a way I got the feeling she's just the same as the biker's gang girls.
Now compare everything I mentioned with Kaori:
Kaori's appearance is the opposite most of the minor girls shown in Akira up to that point. She doesn't wear makeup; she doesn't have dyed hair. And she wears rather bland if not slightly colorful yet totally mismatching clothes. She might show some skin, but that's on a normal level (arms and legs), moreover her clothes are not tight at all as it's the case with every other girl.
I almost feel like a stupid idiot because both girls appear in the same scene. I never spotted this fact or thought much about it. And I feel massively stupid because of this since the whole purpose of the scene is just to show the contrast between both girls, especially on the level of behavior. One is flashy, the other not. One behaves outrageous, the other one timid and shy. It's as if two worlds clash.
And this is the moment I understood Kaori and her purpose in Akira. Because when I shifted the outer appearance of the girl onto the symbolic level, everything became crystal clear: Kaori is the symbol of normality, of a normal life. So her role in terms of movie minutes might be minor but that doesn't mean that her role isn't truly significant.
The following scene in which she meets Tetsuo drives this point already home: Tetsuo didn't run to his gang, but to her. Why? Because he wants to run away with her. On the symbolic level this means that he wants to leave his current life behind and start living normally. Remember that he comes straight from the hospital, so he doesn't have any belongings with him. He even doesn't want to. He wants to start over.
Minutes later this takes a turn for the tragic in which Kaori plays an extremely important role. She is the trigger of the madness that breaks out in Tetsuo and his lust for power and domination. The reason is the fact, that he wasn't able to save or protect Kaori, his normal life, from the clowns. He didn't have the power. But Kaneda did. Kaneda saved the day. This leads to some extreme frustrations inside him. So he not only beats the clown almost to death but also starts to get aggressive towards Kaneda. In a way, Kaneda took Tetsuo's pride and his face, which is also why he hides his face when Kaori comes close to him and tells her to stay away. He's ashamed of himself. Seconds later his awakening fully starts and we know that there's no turning back anymore.
Tetsuo was extremely close to start over living normally, but his old life destroyed everything. The normal life symbolized by Kaori is further away than ever. And the same happens with Kaori as a character: she's not a part of the following fights and conflicts in Akira.
In terms of structure this scene is the first major turning point of Akira, the moment everything really starts and Tetsuo begins to fully awaken. And Kaori's a part of it. The exact same thing happens again, this time almost at the end of Akira, at the second major turning point in terms of Testuo's awakening. And again, Kaori, the normal life, is part of it.
If you remember, Kaori appears out of the blue in the stadium after the big fights are over and Tetsuo more or less found Akira: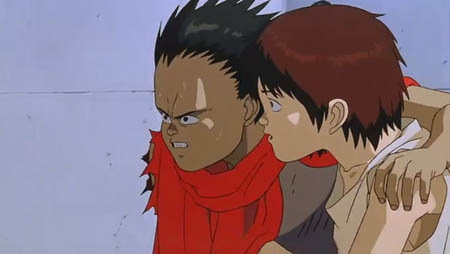 In this scene the character interactions are important as again is the role of Kaori, the symbol of normality. Minutes after the reunion of Tetsuo and Kaori the Colonel offers him help by giving him the medicine that's necessary to control this power. Tetsuo refuses. But then the marvelous thing happens: he walks towards Kaori and seeks her help. He wants the medicine from her, not the Colonel: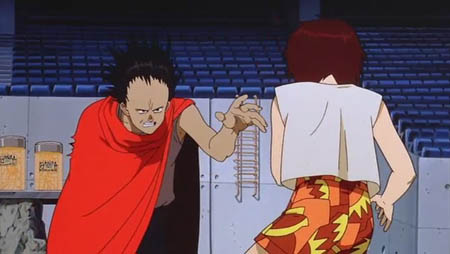 Remember: this is the guy who killed hundreds of people, even his old gang members. He should've killed her or attacked her in an instant but he didn't (he even let Kaori help him walking as the screenshot above shows). Again, on the symbolic level, he was reminded of the normal life he could have lived after finally seeing Kaori again.  This triggered again his wish for just that. A normal life. He still wants to reach and find it accompanied by all the normality we live in. This time, though, his wish is utterly tragic because there is no way he can turn back anymore. Kaori, the normal life, is out of reach and stays out of reach – Kaori backs off. Seconds later his final transformation begins.
In the course of this transformation he still clings to his wish to return to normality. He frantically grabs Kaori not thinking about her safety at all. He swallows her in his body and moments later she's killed by it. Tetsuo doesn't want this to happen but his body – his power – is out of control. He'll never be able to reach normality because his own body "killed" it. In a way those events in Akira are absolutely logic on the symbolic level. Imagine what would have happened if the kids didn't awake Akira and Testuo somehow would've controlled his body. Do you think he'd still be able to live a normal life? Of course not, simply because his grotesque form would've prevailed in one way or another. There's no way he would've gained any form of normality. But even if he would've manage to regain his body, he'd still be having those massive psychokinetic powers. Nobody would ever dare to get close to him. He would have been shut out from society. After his powers awakened he lost his path to normality forever.
But back to Kaori as the symbol of normality. As Gage mentions in this comment, everyone seems to treat her coldly or doesn't care about her death at all. I think that her symbolic role in a way explains, why almost everyone in the movie act the way they do. She – the symbol of normality – is the outsider in Akira simply because everyone else long time ago left this path and nobody wants to return. They don't want normality, they don't seek it. Hence nobody interacts with her. In other words: she's too normal for them.
I am not sure if I overlooked some important scene or moment in Akira but even if I did I for the first time ever get the feeling I fully grasped Kaori and her role in this post-apocalyptic movie. It took some time but I think it was worth it.
What do you think of my interpretation? Let us know!